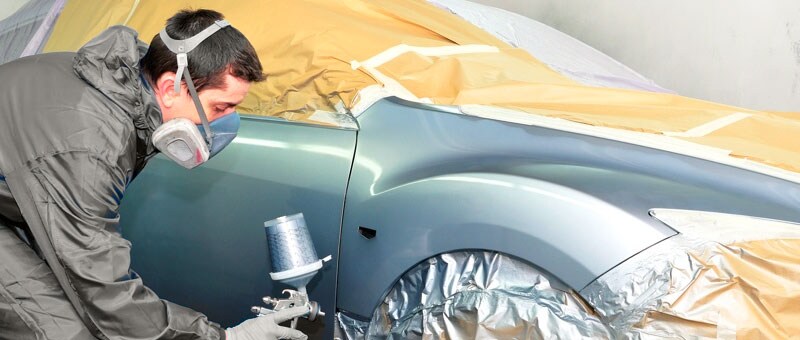 If you've ever been in an automobile accident, you know how stressful it is, both physically and emotionally. Your beautiful, prized vehicle has now been damaged and you want it restored to its original pristine condition. However, with the number of auto repair shops available, how do you know which shop is the most reliable and does the best work in repairing and painting your vehicle at a rate your insurance company approves?
Restore Your Auto Paint
You know that repairing your vehicle to its original factory condition is of utmost importance and you'll also want the paint restored to give back its glamour. Despite the level of damage, the paint on your vehicle is more than coloring, it usually has coating to protect your vehicle from things like rust which can lead to chipping and cracking. If not refilled, resurfaced and repainted, these areas can grow worse over time, which can increase the cost of repairing them. As for the damaged frame behind the torn paint, unless you own your vehicle outright, your lienholder will require you to have your vehicle repaired. If you own your vehicle, your insurance company may require you to have it repaired.
We understand not all needed vehicle paint services are due to collisions. Mother Nature and time, or simply a desire for change could be reasoning enough to address your vehicle's paint job. Whatever the reason, our team will be able to give your vehicle the look you desire with a quality and protective paint job you should expect.
Experience You Can Rely On
We know that your vehicle is a prized possession and we will treat it as though it was our own. You will have peace of mind knowing that your repair will be both expeditious and complete. Knowing that collisions don't occur just during the week, our collision facility is open Monday through Saturday in order to meet with your scheduling obligations.
---
We are among the best in the area for collision repair and our clients consistently give us rave reviews. Our work is guaranteed and we provide free estimates. We guarantee all of our work and we work with all insurance companies. If you need a rental car while your vehicle is being done, we have Hertz rental cars on site for your convenience and the rates are insurance approved.
Please call us or come by our dealership and let us help you during this very stressful time. Your peace of mind is our primary focus in getting your vehicle repaired and we will be happy to answer any questions you may have. Come by today and let us help you.
---
Schedule Auto Body Paint Service
Contact
Park Place Acura
Sales

:

(469) 620-7939