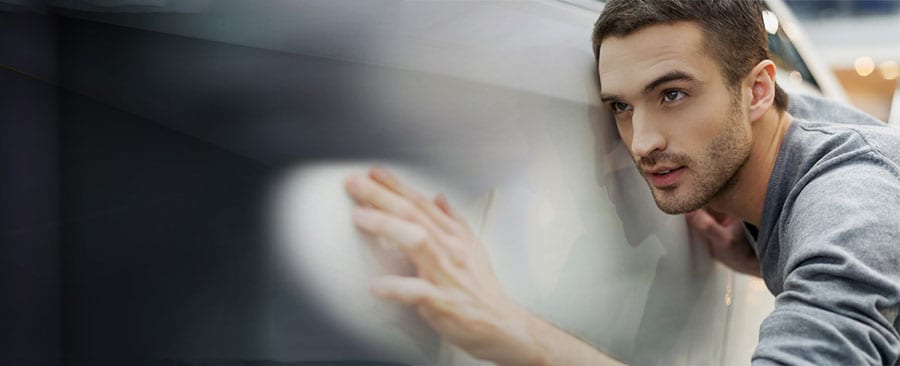 Vehicle blemishes can be annoying in more ways than one. They can decrease the value of your car, as well. However, avoiding the occasional scratch, ding or dent is almost impossible because you have no control over the elements or other people. We know how frustrating it is to eye your vehicle after you've received a hailstorm ding or a scratch from a driver who pulls in just a little too close at the mall. We understand that you want to remove the eyesore immediately. Our dent repair services can help.
Repair Your Dents Now to Avoid a Mess Later
Your visual displeasure is not the only reason that you need to repair dings and dents right away. Another reason that you should act quickly is further damage. Paint chipping can spread like cancer if you do not address it immediately. You could start with a quarter sized issue and end up with several inches of paint peeling or chipping. Furthermore, dents, chips and scratches can expose the vehicle's body to rust. The cost of conducting the repairs will increase the longer you wait.
Choose a Noteworthy Dent Repair Provider
You need to pick a reliable repair shop whether you need ding repair, scratch covering, dent repair or paintless dent repair. A reliable provider is one that meets all the criteria of an honest and forthcoming firm. You can see evidence of honesty and compassion in our company by checking our consumer reviews, credentials and tenure. We have been providing services for automobile owners for almost 30 years, and our customers stand firmly behind our endeavors. Our specialists are trained and certified in their fields of repair, and you can ask for proof at any time.
---
Contact Us for Help Today
Contact Park Place Acura, TX for your repair needs as soon as your accident happens. We will schedule an appointment for you so that our experts can get a quote for the work. We are here for you whether you need a minor repair or a major overhaul. Our establishment sells a wide range of new and used vehicles, as well. You can come and talk to us the next time you want to switch your vehicle for the better. We're waiting to suit your needs. Call us and arrange a damage assessment with one of our caring repair specialists.
---
Schedule Dent, Ding & Scratch Repair Service
Contact
Park Place Acura
Sales

:

(469) 620-7939